Calmatech Drying Solutions Tunnel dryer Typhoon Characteristics
Suitable for drying different types of inks on several materials and for any other product that does not burn, deform or liquefy under the influence of heat, with dimensions and weight allowed for the tunnel dryer.
Available for gas and electric, by using an industrial gas burner or electric heating elements.
Equipped with specially designed airflow plate so that the heat distribution is the same over the entire surface.
Calmatech Drying Solutions uses the latest gas burner technologies. As a result, this machine has a particularly low energy consumption.
Optionally available with infrared or UV elements.
Tunnel dryers from Calmatech Drying Solutions meet the latest CE guidelines.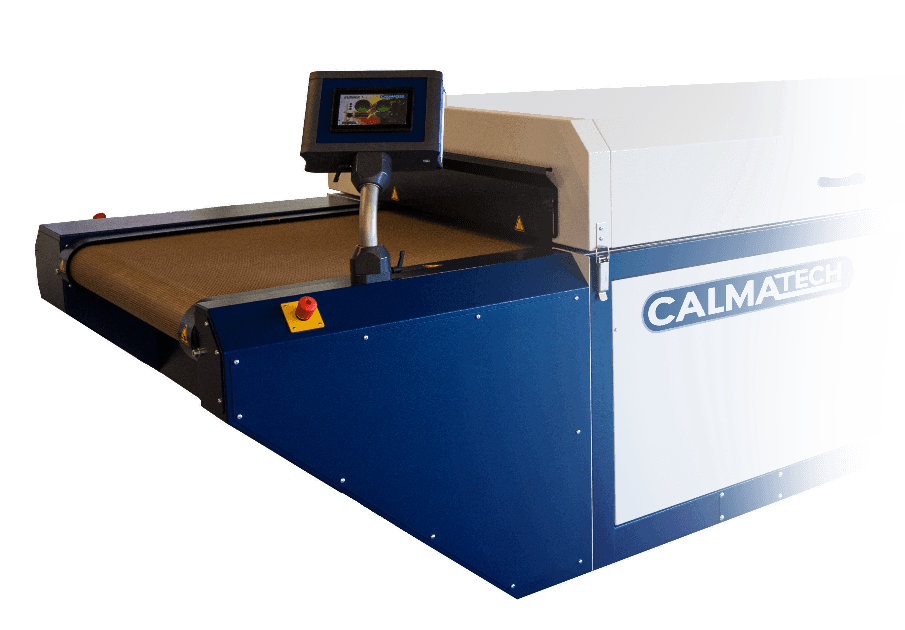 Features
Excellent temperature spread over the entire surface of the dryer.
Accurate temperature control.
Low energy consumption.
Modular construction ensures that almost every size is possible.
Touchscreen control panel.
Easy to clean, maintenance-friendly construction.
Modular construction
Modular construction makes it possible to add extra modules for expanding drying capacity.
Modules of 2 meters.
Standard widths of the modules are 800, 1000, 1300, 1600 or 1900 mm.
Each module has 1 gas burner or heating unit, with at least 1 fan.
On request: extra fan.
Available with single or double band.
Standard bandwidth single band: 1000, 1300, 1600 or 1900 mm.
Standard bandwidth double band: 700, 820 or 1200 mm.
Good temperature control
Temperature spread in the tunnel dryer remains accurate within 2.5˚C.
Well insulated to prevent heat loss.
The outer wall of the oven does not get hotter than 35˚C.
Maintenance
Oven tunnel to be opened by using gas springs.
Easy access to dry surface.
Easy to clean and maintenance-friendly.
Programmable Logic Controller (PLC)
Oven is fully controlled by a PLC controller.
Optional: Internet module for remote login.
By connecting an internet connection to the machine, some malfunctions can be viewed remotely and possibly resolved, without the need for a service technician on-sight.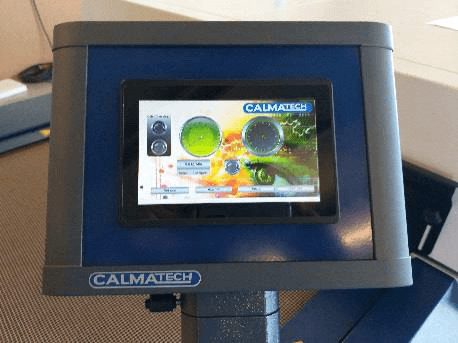 Control panel (touchscreen)
The tunnel dryer is equipped with a touchscreen control panel. With this touchscreen the following settings can be applied and the following information is obtained:
Setting the air temperature (40˚C – 220˚C).
Setting the band speed (0.1 m/minute – 12 m/minute).
Current, actual temperature display.
Current, actual band speed display.
Visual display of status and error messages.
Save programmed settings for later use.
Setting the air speed by means of a frequency controller (Adjustable from 1.050 m³/h to 4.500 m³/h).
Accessories
The following accessories are available with the Calmatech tunnel dryer:
Cooler with ambient air
Is placed on the tunnel dryer outlet.
Deprives the heat of the product to be dried. Temperature decreases to more user-friendly (handy) temperature.
Cooler with outside air
Extra module of 2 or 3 meters, without burner or heating element.
This module draws in air from outside in order to cool the product back.
Optionally, these outside air coolers are available with a mixing control. This mixing arrangement ensures that the air is not too cold in winter and not too hot in summer.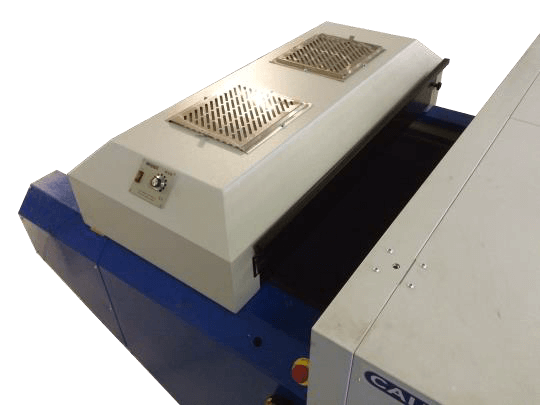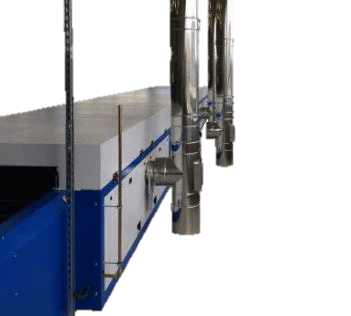 Flue gas outlet
Calmatech Drying Solutions can also, if desired, supply the smoke outlet for the tunnel dryer.
We deliver a modular double-walled chimney system made of stainless steel with high-quality insulation.
Chimney systems are designed according to the applicable local guidelines.